ABOUT SUSAN
"I explore the tenderness and uncertainty that underlie our desire to connect with others.  Absurdity, vanity, and the precarious nature of the self are never far from my thoughts." SEB 
Susan earned her Master's degree in American Literature from Tulane, but all she really wanted to do was make things out of clay.
She took her first class in wheel throwing at Earth & Fire Studio from the inimitable Kate Tonguis.  She taught herself to carve in relief, interpreting scenes from literature and mythology.  When the sculptures began to climb off the pots, it was time to get serious.
In 2007, Susan studied at Penland School of Craft with Matt Kelleher and Shoko Teruyama.  She continues to attend workshops whenever possible, most recently with Beth Cavener and Tip Toland, always looking for new ways to channel her love of gesture, texture, humor, fabric, dark legends, animals, and botanicals. Her pieces always have a back story.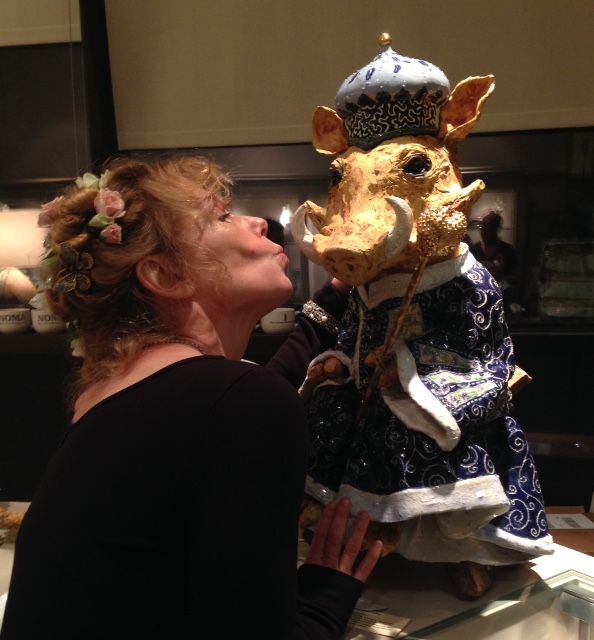 Susan opened her own studio in 2015, in the backyard of another New Orleans sculptor, Evelyn Jordan.  She teaches weekly adult hand building classes and occasional workshops. "If you can think of it, we can build it," she likes to say.
You can find Susan's one-of-a-kind clay sculptures at the Museum Shop at the New Orleans Museum of Art, at local and regional art markets, and at her studio by appointment.
Sgraffito, colored slips, transfers, and paper resist patterns create depth and texture on handbuilt surfaces. Stoneware and mid-range terra cotta primarily built with slabs or coils.
BARWARE
From shot glasses to champagne buckets, Susan creates barware that is both functional and decorative. Warthogs, Ostriches, and other animals look right back at you while you drink from their heads. Each piece is individually sculpted and decorated with colored slips and glazes, then fired in a kiln to make them watertight and food safe.
"We have art in order not to die from the truth."
Friedrich Nietzsche